Are You Ready for a Flood This Hurricane Season?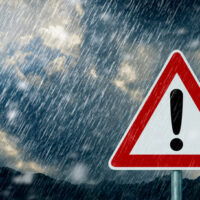 Because we don't have enough to worry about here in Florida, homeowners also know it's June, and that means the start of our hurricane season. You may think you're ready for some of the dangers that heavy rains can bring…but are you?
Flooding is the Unappreciated Danger
According to a report on a survey by the American Automobile Association (AAA), 80% of people would evacuate their homes if a hurricane that was Category 2 or higher threatened to strike, despite the fact that it is generally not required or considered necessary for homeowners to evacuate for a Category 2, and in some cases, even for a Category 3 (unless the property is in a designated evacuation zone).
Hurricanes tend to make homeowners think of wind damage, which is obviously a very serious threat, and a leading cause of property insurance claims. But flooding is not always on our radar, because outside of hurricane season, Florida does not get many floods. Many homeowners think that they can't flood, evidenced by the fact that the study showed that about 65% of Floridians don't even have flood insurance.
Even Minor Flooding is Dangerous
When we think of floods, we think of Hurricane Katrina, or other disasters where the streets become rivers, and the tops of houses are all that's visible. But in fact, even just minor flooding can cause catastrophic damage.
The Federal Emergency Management Association estimates that even just one inch of flooding inside of a home can cause $25,000 worth of damage. Does a map show that you're in a low risk zone? Don't get comfortable—20% of homeowner's insurance claims for flooding damage come from properties located in low risk zones.
Take Precautions
There are things you can do to protect yourself, which include getting a proper flood policy. Your standard homeowners' insurance policy may not include flood coverage, which is sold as a separate policy. Do not assume because you have homeowner's insurance coverage, that you have flood coverage. And don't wait—when a hurricane is tracking our way, you will find it difficult if not impossible to get a policy.
Take inventory of your belongings. In a flood, many items could be damaged beyond repair, or could simply float away. The insurance company will require proof of your personal property to insure it. Simply taking your cell phone camera and snapping pictures or videos of each room and its contents should be sufficient.
Important paperwork often will be needed to make a homeowner's insurance claim, paperwork that could be lost or damaged in a flood. Make sure to secure all necessary paperwork in plastic bags or watertight containers, and store them somewhere safe.
If you have damage to your property after a storm or a flood, fight back against any insurance company that doesn't work cooperatively with you. Contact the Miami property damage insurance claim attorneys at Velasquez & Associates P.A. today for help.
Resources:
floodsmart.gov/flood-insurance-cost/calculator
southfloridareporter.com/in-the-event-of-a-hurricane-42-of-floridians-less-likely-to-evacuate-due-to-covid-19/
https://www.jvelasquezlaw.com/why-your-homeowners-insurance-check-has-your-mortgage-lenders-name-on-it/