Texting While Walking is Dangerous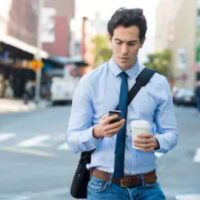 When you think about the dangers of texting, we certainly hope that you immediately think of the dangers of texting while behind the wheel of a car. There is ample evidence showing how "distracted driving" causes accidents, and in fact Florida law recently changed, allowing police officers to pull over drivers and ticket them when the officers see people driving while texting.
What About Walking?
What a lot of people don't even think about is how dangerous it can be just to text and walk. The dangers are the same as they are for driving: Despite our insistence that we are great multitaskers, the human brain still can process only a few things at a time.
Walking and texting caused more than 11,000 injuries last year, and led to over 5,000 pedestrian deaths. In one study, 60% of walkers veered off course when they were texting, and the researchers observed serious alterations in the style and gait of walkers when they were texting.
The problems were not limited to texting, but to almost any routine function performed on a phone, such as reading texts, using social media, or talking on the phone. However, researchers did not find that listening to music caused any serious distractions.
Texting in Traffic
For pedestrians trying to navigate oncoming traffic, texting while walking can have serious consequences. People who were texting were less likely to look for oncoming traffic. Studies of emergency rooms have found that teenagers and those in their early twenties have a rising rate of injuries to the neck, head, and facial features, due to walking and driving while using a cell phone.
The increased use of cell phones by pedestrians is partly to blame for the rise in pedestrian deaths found in 2018 studies, which showed a higher amount of pedestrian deaths than there had been in the last 20 years.
Comparative Negligence
If you are a pedestrian and you are hit by a car, the driver of the car—as well as the jury at your injury trial—will want to ensure that you were acting safely. An insurance company that learns that you were hit by a car while you were texting is less likely to make you a favorable offer. A jury that hears that you were texting while walking is more likely to say that you caused some, or all of the accident—even if the driver of the vehicle that hit you was driving too fast or breaking traffic laws.
The same goes for trip and fall accidents. If you were to fall because someone had a dangerous condition on their property—something wet or slippery on the floor, or a tree branch sticking up from a roadway or sidewalk—the property owner would likely blame you for not seeing the dangerous condition because you were texting.
Be safe and make sure that you are compensated if you are injured in an accident. Contact the Miami personal injury attorneys at Velasquez & Associates P.A. today with any questions you may have.
Resource:
rd.com/culture/texting-and-walking-injuries/