Criminal Activity Can Lead to Personal Injury Claims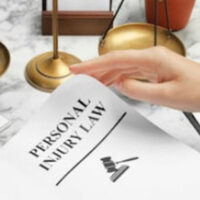 When someone is a victim of criminal activity, we know—or at least hope—that the criminal justice system will bring the wrongdoer to justice. As a victim, you may expect the wrongdoer to go to jail (or worse). However, simply putting someone who commits a crime in jail does little to help the family that has been victimized.
The criminal and civil justice systems are very different, with different goals; the criminal system is not as interested in paying victims for pain and suffering or loss of a loved one as the civil system is. Many families don't realize that in many cases that involve criminal activity, there may be a civil lawsuit for injuries (or wrongful death) available to the victim or the family of the victim as well.
Examples of Criminal Activity and Civil Liability
One recent example is the tragic case of a woman beaten and killed in her home by delivery people acting on behalf of Best Buy. Clearly, the murder is a criminal action. However, the civil lawsuit also alleges that Best Buy failed to supervise or properly do background checks on its delivery services, thus contributing to the accident.
Crime often happens in areas where businesses have an obligation to provide adequate security, but they fail to do so.
Crimes that happen on the premises of residential complexes may lead to personal injury suits against landlords who fail to have adequate safety measures. Crimes that happen in mall parking lots often lead to liability for the shopping complexes that do not put sufficient resources into security (both human and technological).
Sexual assault perpetrated against children or the elderly are heinous and horrific crimes. Families of victims must ask themselves whether a day care, school, nursing home or other area where the crime happened, did enough to properly supervise and protect the people that they were caring for.
Types of Injury Claims and Experts
As a general rule, many of these cases fall under the category of negligent security, negligent hiring or negligent entrustment. They allege that there is inadequate security, or that a business failed to properly monitor, supervise, or background check the people that they hire.
Experts will often be employed by the victims to testify what the appropriate standard of care should have been, and how the business or company fell short in protecting people. These shortcomings make criminal activity foreseeable, and thus lead to civil liability. Experts will also look at local crime statistics. A business cannot simply say they had no idea that criminal activity would happen when the surrounding neighborhood (or the business itself) has been repeatedly victimized by criminals.
If you are a crime victim, the last thing that you may be thinking about is money. However, your pain, suffering, trauma, and loss of the enjoyment of life all have a value, and you should never assume that just because a criminal is involved that a business may not be civilly liable to you for damages.
Get help if you have been a victim of crime and suffered injury or loss. Contact the Miami personal injury attorneys at Velasquez & Associates P.A. today with any questions you may have.
Resources:
businessinsider.com/best-buy-sued-lawsuit-over-womans-death-during-appliance-delivery-2019-9
ir.law.fsu.edu/cgi/viewcontent.cgi?article=1575&context=lr
https://www.jvelasquezlaw.com/wrongful-death-suit-filed-against-best-buy/