Homeowners Insurance Claims And Rates After A Bankruptcy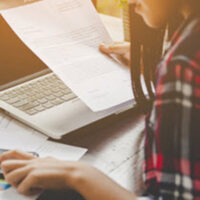 Two things in life that people try to avoid: Having property damage so severe that they require an insurance claim, and filing for bankruptcy. But sometimes they both happen. How will a bankruptcy affect your property damage claim?
Disclosing a Homeowners Insurance Claim
In bankruptcy, your property damage claim is an asset that could be lost in your bankruptcy, even if you haven't gotten any insurance money yet, and even if the amount of the insurance claim is not yet determined.
You must tell a bankruptcy court that you have made a homeowners insurance claim, or else you could lose the right to bring the claim entirely.
When you file for bankruptcy, all of your assets transfer to the bankruptcy court, at least in theory. A bankruptcy attorney can better advise you as to the ramifications of bankruptcy, but this means that the bankruptcy trustee, and not you, could have the right to bring the homeowners claim on your behalf. The trustee may even bring the claim, if you for some reason don't want to bring a claim.
Protecting the Proceeds
Bankruptcy allows you to protect ("exempt") certain items, including any value in your homestead property. That means that if you sue your homeowner's insurance company and expect to recover money to repair or replace your homestead property, the insurance money may be exempt (protected) the same way that your homestead property would be protected in a bankruptcy.
This would not apply if the property damage were for investment property, a second home, or other property that is not considered your homestead.
If the homeowner's claim covers any kind of personal property inside the home, that money could be taken, because up to a certain value (between $1,000-$4,000) personal items are not protected from being taken by a bankruptcy court.
So the core question is whether the insurance money is "replacing" or fixing property that would be protected from a bankruptcy court. If so, the insurance money is likely also protected.
Bankruptcy and Insurance Policies
What about your actual policy? Your homeowners insurance will not cancel you just because you filed for bankruptcy. However, your insurer may raise your rates or not renew you, when your current policy expires.
Insurance rates are based on credit, and immediately after a bankruptcy, your credit could be negatively affected. This may not make sense, but statistics show that people with lower credit tend to make more claims.
If you have a mortgage, your lender may purchase force-placed insurance, if you are unable to get a policy on your own after a bankruptcy. Force-placed insurance can be very expensive.
If at all possible, it may be better to file for bankruptcy immediately after renewing a policy, so that you then have the better part of an entire year to improve your credit. Or, you can select an insurer that may be less likely to cancel you for filing for bankruptcy.
Contact the Miami property damage insurance attorneys at Velasquez & Associates P.A. today for help understanding your homeowners insurance claim.