Insurance Coverage For Damage Caused By Hail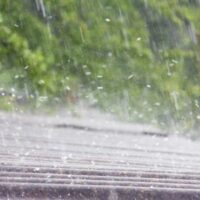 Lost amidst the constant reminders of hurricanes and tornadoes, is the pervasive threat of hail. Although Florida doesn't get much hail, it does happen, and when it does, it's good to know whether your insurance company will cover damages caused by hail.
Noticing Hail Damage
Hail creates problems because the damage it causes isn't always immediately noticeable. But hail is covered by most policies.
If your roof blows off, or there's a flood in the kitchen, you know it right away. But small damage to the infrastructure of your home caused by hail may not be immediately noticeable, or even in a place that you can see with your own eyes. You may not even realize you've sustained hail damage until the "symptom" of the damage manifests itself.
Do a Survey
If you suspect hail, which usually is indicated by hearing the solid pellets hit your property, you should do a complete survey of your property. Even if there is no "symptom" of the damage—for example, no flooding—if you see any damage, like holes, cracks, cracked windows, or damage to the roof—these damages should be documented with photographs right away.
Metal is susceptible to hail so make sure to check on air conditioning units, gutters, fences, or vents. Look for any chips or dents that were not there previously.
Of course, hail doesn't just hit a home—if your car is outside, and it shows signs of hail damage, such as windows or indentations, take a picture of those as well, even though your homeowner's insurance may not cover vehicle damage. The damage to the car can verify that the damage to your home was hail related.
Official weather reports can verify whether or not hail actually occurred, and often, expert meteorological testimony will be used in court in the event that insurance companies deny that hail occurred, or caused your damages.
Roof Damage
If you can and if it is safe, do a visual inspection of the roof. Roof damage caused by hail usually looks like denting, cracks, pitting, or spotting (discoloration). There may be hairline cracks or small holes. Take pictures of anything that you observe—even if you are unsure if the damage was actually caused by the hail or not. Remember that hail doesn't just hit one home; if neighbors also have similar damage, that will go a long way to proving to the insurance company that the damage to your property did not pre-exist the hailstorm.
Always report any damage that you find to the insurance company even if you are unsure of whether the damage was caused by the hail, so long as you have a good faith basis for the report. The insurance company will send out its own investigators and adjusters, who will make a determination of whether or not the damage was caused by hail or not.
Contact the Miami property damage insurance attorneys at Velasquez & Associates P.A. today for help working with your homeowner's insurance company.
Resource:
allstate.com/tr/car-insurance/hail-damage.aspx#:~:text=Hail%20damage%20could%20mean%20dents,insurer%20as%20soon%20as%20possible.